Honolulu Airport (HNL)
The Honolulu International Airport is the main entry and departure point for the Hawaiian Islands. In fact, HNL, is one of only three airports in Hawaii which can handle international flights.
There are many ways (rental car, bus, taxi or shuttle) to get to and from the Honolulu International Airport (HNL). The airport is about 9 miles from Waikiki Beach and only 5 miles from the Honolulu city center. The H-1 Interstate Freeway has westbound and eastbound exits on-ramps and off-ramps for the airport.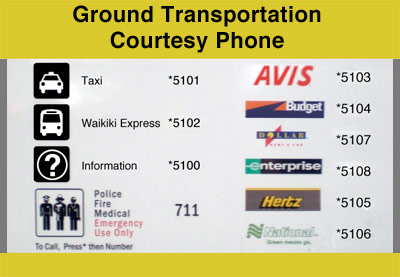 Check our Discount Rental Rates. Get a free Rental Car Quote today!