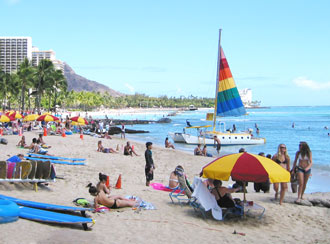 For most first-time visitors to Hawaii, Waikiki Beach is a popular destination. The beach is low bank, and generally calm and friendly for all ages. Waikiki's warm, tropical water is an ideal place to get coral sand between your toes, relax in a beach chair, jump in the surf, try out new snorkel gear and take surfing lessons. The atmosphere here is lively and fun. There is a fun late night scene here.
Waikiki is a great place to stay on your first visit to Hawaii. Affordable, as well as very elegant, hotels are massed in the area. Waikiki Beach provides friendly accommodations for international and mainland visitors.
Shopping for souvenirs, from keychains to original art, is available everywhere. Choose your venue: Outdoor trinket shop or trendy gallery.
From amazing fresh fruit at every turn, from homey island cuisine, to upscale dining, to fast food, in Waikiki– you won't be deprived of your favorite cuisine.
You'll be able to sip mai tais and pina coladas in crowded beachside settings or in an intimate piano bar. You'll have to look hard to find a locale that doesn't include island breezes.
No worries if you forgot to pack, ummm, just about anything. You'll find what you need without leaving Kalakaua Avenue. For example: Save swimsuit shopping until you arrive and you'll be rewarded with beautiful and unlimited choices.
Festivals, special events and live music are found throughout the year along Waikiki Beach.
As you enjoy all the modernity of Waikiki, take time to stroll the Waikiki Historic Trail. The walk begins at the Royal Hawaiian Center and takes in 23 historical sites. Arrive early to discover all that the center has to offer.
One of Waikiki's newest recreational activity centers is located 300 yards out from the beach. Waikiki Ocean Club is a sensational and fun experience for the entire family. If you like to play in the water, you'll want to spend some time here.
At the east end of Waikiki Beach is a wonderful location for family fun. The Honolulu Zoo and Waikiki Aquarium provide hours of entertainment for kids, and like-minded adults.
And, once you've fully explored Waikiki, we hope you'll venture on to visit downtown Honolulu and then take a drive to other parts of the islands. We feel Oahu has so much to offer, from sleepy little villages to glittery-city nightlife. You won't want to miss any of it on your first visit to Hawaii!