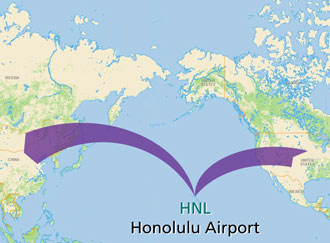 Are you like many travelers who have become lost at LAX? We know how that feels. Traveling alone, one of our relatives took the wrong LAX bus and ended up far from his next flight. He barely got back in time to make his connection. Yuck– That's no way to fly!
For those of you who are going to be flying beyond Hawaii, we have a great stress-free idea for your itinerary. Why not book with an airline that stops in Hawaii/HNL rather than Los Angeles/LAX?
HNL is a delightful place to relax during layovers. It's airy and open, tradewinds send floral scents through the air, and the airport adheres to the same security and safety rules as all others. Yet, island spirit ("aloha") is more casual, welcoming and friendly. Where would you rather spend your layover?
Friends of ours are soon flying to Auckland/AKL from Phoenix/PHX. They searched the usual online discounted ticketing websites and discovered they could fly Hawaiian Airlines from Phoenix, through Honolulu, and on to Auckland without ever having to visit LAX. They are thrilled. Their return trip retraces their outbound flight. Hawaiian happened to be the most affordable option available for their travel dates.
Several airlines serve the Pacific, stopping over in Honolulu. Like our friends, we also, are pretty smitten with Hawaiian Air. Currently, the airline flies to about a dozen U.S. mainland airports. All but one (New York/JFK) are in the western U.S.
Currently Hawaiian Air flies internationally to Japan, Australia, New Zealand, South Korea, Tahiti, Philippines, Taiwan and mainland China. Other airlines who also stopover in Hawaii, fly to additional locations.
For those of you who prefer smaller, friendly airports, we suggest you book your next westbound international trip on an airline that stops over in HNL, rather than LAX. When you're filled with a generous portion of aloha, we know you'll be more relaxed when you reach your destination.