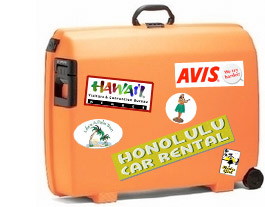 Visitors to the Hawaiian Islands are bound to see souvenirs or gifts that are perfect for office or home, their child's teacher, their best friend and the house-sitter.  But, how is the best way to get your treasures back home?
Don't gift-wrap anything that will accompany you on your flight.  Security staff need to unwrap it.  If you're carrying a gift to someone whom you'll meet on arrival, consider bringing an empty gift bag and tissue to put the package together before landing. Those handy ABC stores carry tissue and gift bags.
Liquid and gel food items packaged in larger than 3.4 ounce (100ml) containers should be mailed or shipped, but can be put in checked luggage.  Be mindful that if these break, they may cause considerable damage to the contents of your luggage. Consider container size when purchasing gift baskets with liquids.
Cakes and pies can be hand-carried through screening.  You may be surprised (as our friends were recently) by an ever-serious security person who advises you that the food must be shared now– and then smiles.   (a nice reminder that they are people, first)
Naturally, you'd want to carry delicate art objects onto a flight. Think about the difficulty of that when purchasing large, bulky or heavy art.  If possible, have the shop or gallery package the piece for carry-on. If it is too large to carry, have the piece shipped home in professional packaging. Galleries often provide this service, or will direct you to a packaging and shipping service.
Surprisingly, you can haul rocks, seashells and dried seeds home with you. However, the list of what you cannot bring is long, and includes berries of any kind, Cactus, several kinds of plants and picked cotton. You'll pass through a Dept. of Ag. inspection station before you depart Hawaii, so know what is allowed and what is best left in the islands.
Not that snow globes are a Hawaiian souvenir we'd think to buy, but they are not permitted in carry-on luggage– regardless of size.
If you wait to make purchases until you are past terminal security checkpoints, the inside shops sell pre-screened items that you can carry on the plane with you.  This is an especially good  idea if you plan to bring fresh fruit or plants on the plane.
Don't forget to ship in USPS flat-rate shipping boxes (free, and available in post office lobbies) when you have big bottles of sunscreen, guide books and smaller souvenirs that you don't want to haul through the airport.