Sunrise…. Sunset…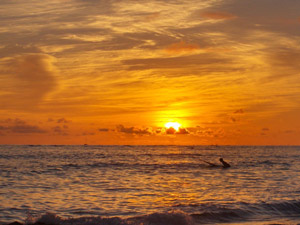 Everyone has an opinion on where the best Oahu sunsets and sunrises are found.  If you've just arrived in Honolulu for the first time, Waikiki Beach is a perfect place to watch the sun paint the sky.
Sunsets are magnificent on west-facing Waikiki Beach.  As palms sway and the sky runs through its  shades of gold to maroon, boats float by on the ocean, water-lovers take in their last waves, and and lovers stroll the beach.  It's a beautiful scene.  Expect to see others around you in awe of the magic too.  Isn't sharing what a sunset is all about?
Sunrises, too, are beautiful from Waikiki Beach. While you won't see the actual sun rise in the east, you'll watch the overhead sky change its colors.  And, early morning on Waikiki is a relaxed, quiet time that you won't experience again for the rest of the day.
You can head out to other locations once you've had time to settle in. The summit of Tantalus Crater, above the city, is also a favorite place to watch sunsets. If you plan to stay on the North Shore, sunrises there are spectacular, too.