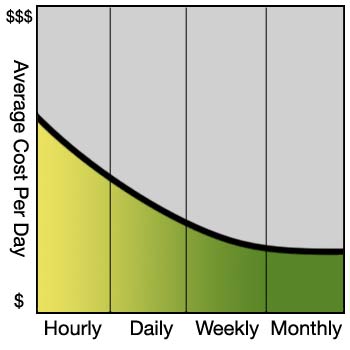 Many travelers who go to the island of Oahu remain for more than a few days and may require a long-term car rental. Often these long-stay visitors go to surf, work temporarily or to avoid winter. For extended-stay visitors, a rental vehicle is necessary to get from lodging to beach or work and to pick up groceries.
Although there is good public transportation available around Honolulu and across Oahu, it primarily fits tourist schedules. Shipping a personal vehicle to Hawaii for a few weeks or months is usually cost-prohibitive.
For those who plan to stay more than five days, we are able to offer additional discounted weekly, monthly and extended rates through our major rental car partners. We've proudly negotiated rates with them that are the lowest you'll find on the Internet.
How it Works
Rental rates are defined as Daily, Weekly, Monthly, and Extended. Weekly rates can start at 5 days. Learn more by reading, Things to Know about Long Term Car Rentals.
Each rental car partner individually negotiates special long-term rental rates with us. They occasionally offer additional, non-negotiated discounts.
When our reservations specialist receives your quote he or she will look at the length of stay, location, optional items and type of car requested. Using that information, your quote will be researched for the lowest possible rate available for your individual needs.
The long-term reservation you receive may include a combination of rates if that is determined to be the best value for you. For example:
If you are going to be working and renting a car in Honolulu from April 1st to May 6th, you might receive a quote with 3 rates: "1 month, 1 (5-day) week and 1 day".

Or
Perhaps your choice of vehicle makes it so that the rate is more cheaply obtained through a partner with discounted (7-day) weekly rates. Your quote would show a rental for "5 weeks".
Yes, our reservation specialists are amazing!
In addition, every vehicle we rent is a late-model one, coming from one of our major rental car company partners.
All cars are covered by 24 hr. roadside assistance programs.
Extended monthly rates are negotiated so that customers need only to visit the rental office at pick-up and drop-off with monthly rental charges being deducted automatically.
A new service has recently been launched for foreign travelers to the USA. They provide cheap all-inclusive rates for long-term car hire for all fifty states. Can't make it to Hawaii?If you opt for a Florida tropical vacation you can usually save money using floridasuncarrental.com for short stays and extended visits.
See for Yourself
If you'd like to see how we can save you time and money on your rental vehicle, please fill out our no-obligation form or call us at 888-538-6770. We think you'll like the price you receive from our reservations specialist. But, there is no obligation for you to keep the reservation. You may ignore it or simply cancel it. No personal payment information is ever requested until you take possession of your rental vehicle.