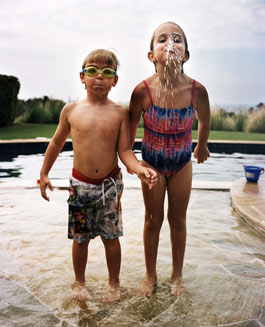 When you plan a family vacation to Hawaii, Oahu makes a great destination. Not only can you take advantage of what is offered in Honolulu, but Waikiki Beach has lots to do, all within close proximity to lodging. Most families operate on a fairly strict budget and Oahu will stretch your budget well.
Distances are fairly short on Oahu (see maps), making it simple to hop in your rental car to shop at Ala Moana Center, snorkel at Hanauma Bay, visit the Honolulu Zoo or visit famous beaches of the North Shore.
The mini vans and SUV's we rent make lots of sense when traveling with a young family. These vehicles provide ample room for strollers and car seats.
Teenagers might find a Jeep to be  a more appealing rental vehicle. We rent 2-door and 4-door Jeeps with removable tops. The open-air advantages of Jeep-travel are many. They can carry boards, traverse the more remote roads, and provide photo ops on the fly.
Keep in mind that most airlines now require strollers and car seats fly as checked baggage (no more whizzing through the airport with your kids in a stroller)  Although our national car rental desks (except Enterprise) rent child seats, availability is dependent on demand.
For those who are traveling with young children, we suggest you visit Paradise Baby Company. They receive great reviews and rent everything you'll need to keep your little one happy and safe during your vacation. They deliver everywhere on Oahu.
Teenagers have a lot to do on Oahu. Fun can be booked– for every interest:
Zip-lining
Helicopter riding
Eco-tours
Ice skating (north of HNL Airport)
Indoor electric kart track racing (west of Honolulu near Ewa Beach)
Swimming and snorkeling
Horseback riding
Hiking
Learning to surf, snorkel, sail
Be sure to take appropriate gear for the activity, such as close toed shoes or sun screen.
Honolulu is a big city, with a wide variety of residents and travelers. Not everyone shares the same views on "entertainment". We suggest older kids be kept safe with simple guidelines such as staying with groups of other people, avoiding pickpocketing, and walking only in well lit areas after dark.